If ANYBODY knows how to deal with dating creatures of the night, it's Sookie Stackhouse, the star of Charlaine Harris' Southern Vampire Mystery Series, the basis of the HBO series True Blood.
Sookie has a slew of monstrous hotties who love her passionately, and it's only getting her in more and more trouble as the series goes along into it's ninth book, "Dead and Gone."
I won't say anything here to spoil things for True Blood
watchers, so all I can really tell you about the plot of "Dead and Gone" is that the supernatural world is rolling to a high boil and Sookie is, of course, right in the middle of it. While the series is still technically a "mystery" serial, it's really becoming more of a high stakes supernatural drama, chock full of danger, intrigue, passion, comedy, tragedy and a healthy dose of steamy romance.
Sookie is up to four suiters now, with a list of willing understudies that should impress even the most skilled dater. Don't let the darling Sookie make you feel bad about your own dating life. We all know it's not that easy to attract a waiting list of hot guys ready to kill and die for you. Miss Harris explains, in her eighth book, "From Dead to Worse," why Sookie is such catnip for every studly monster in a hundred mile radius. That doesn't make Sookie's dating life simpler though, with representatives of just about every species that goes bump in the night vying for her attention.
Despite her supernatural dating talents (which you'll have to read the series to learn more about, I'm not gonna give it away) I think we should all look to Miss Stackhouse as a role model. She's got guts and self respect and she never prejudges a man by his past (even if it's as a blood thirsty monster). I mean, come on, who can resist this guy:
Or this one, for that matter: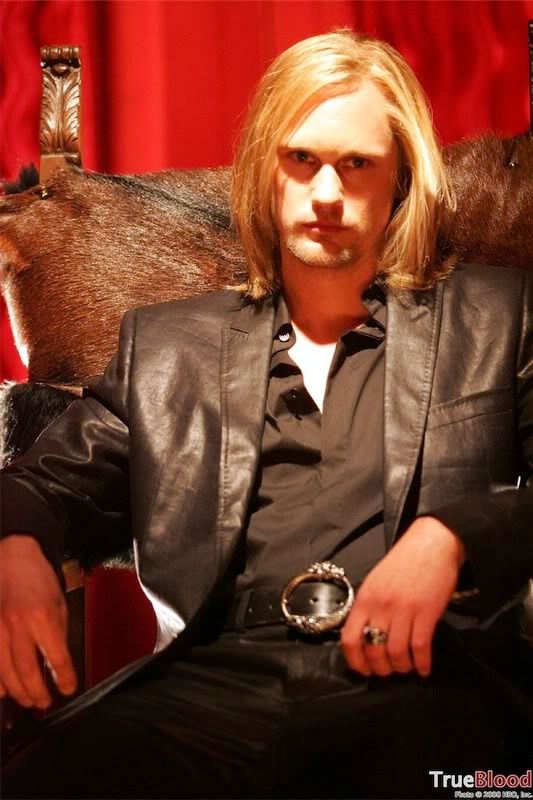 I might not have had QUITE as much luck with my own foray's into dating the undead, but Sookie gives me hope that being open minded really will get you everywhere. You might decide that dating the underworld doesn't seem like a good idea (and you're probably right). But, regardless of whether you agree with me that handsome but deadly sounds like just the kind of guy you want to see on a Saturday night, you won't be able to help but be entertained by Sookie's exploits.
Now, if you're a fan of the True Blood series, you'll want to start the Southern Vampire Mystery Series
from the very beginning
. Frankly, even if you're not a fan of the TV series, you might want to start fresh - things have gotten pretty complicated in Sookie's world. But, these are must reads for anyone who likes a little murder and mayhem and a lot of supernatural awesomeness (plus hot guys and steamy goodness).